Ricotta (pronunciado / ri'kot-ta / em italiano) é um queijo italiano feito a partir do soro de leite, que resulta na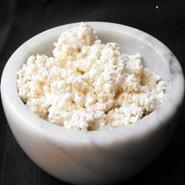 tomada de queijos como o mussarela ou provolone. O nome "ricotta" significa "cozido novamente" em italiano, referindo-se o processamento do segundo líquido para a produção de queijo. Ricotta é semelhante em textura ao queijo cottage, embora consideravelmente mais leve e é um ingrediente-chave em bolo de queijo, lasanha e muitas cannoli. Muitas vezes, é servido misturado com açúcar, canela e, ocasionalmente, raspas de chocolate como sobremesa em famílias italianas.
Ad blocker interference detected!
Wikia is a free-to-use site that makes money from advertising. We have a modified experience for viewers using ad blockers

Wikia is not accessible if you've made further modifications. Remove the custom ad blocker rule(s) and the page will load as expected.